When two excellent companies partner, great things happen.
The Devices.
Dermoscopy that fits into your pocket.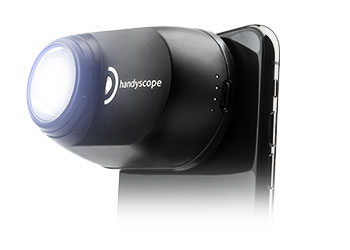 handyscope
by DermLite/FotoFinder
Compatible with virtually any iOS or Android smartphone or tablet, DermLite handyscope has been designed from the ground up to be the most flexible eDermoscopy tool!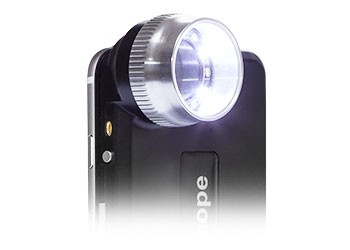 handyscope classic
by FotoFinder
Tailor-made for iPod touch, the original handyscope from FotoFinder transforms your iPod into a tool for digital dermoscopy or trichoscopy that fits perfectly in your hand!
handyscope
DermLite/FotoFinder
Glass Faceplate
The practical snap-on glass faceplate for contact and non-contact dermoscopy is stable, removable and easy to clean.
Illumination/ Wireless Control
At the touch of a button you switch between polarized, non-polarized and clinical illumination or use a wireless connection.
Charge Indicator
The charge indicator signals the battery status on four different levels via LED.
Multitasking champion
Suitable for most devices
MagnetiConnect®
The innovative attachment technology allows for the compatibility with any smartphone or tablet.
DermLite Premium Quality
Built for your longest day
DermLite handyscope has been designed to last through hundreds of exams, comes with a four-level battery indicator, and its built-in lithium-ion battery may be recharged from any USB port via the included USB-C to USB cable. Now that you can work for days, when will you start using DermLite handyscope?

DermLite handyscope comes with a removable snap-on glass faceplate for both contact & non-contact dermoscopy, covering the complete range of imaging modalities, from liquid-immersion pigmented lesion dermoscopy to non-contact capture of vascular structures in amazing clarity without the undesired effects from glass-slide compression.

To assist your institution's infection control measures, DermLite handyscope is compatible with IceCap®, disposable covers that simply snap over the faceplate spacer.
handyscope classic
by FotoFinder
Precision optics
Excellent images thanks to the combination of FotoFinder precision optics. Autofocus for consistent images with 20x magnification.
Perfect fit for iPod touch
Functional design tailored to each Apple device for a perfect fit. The sliding mechanism ensures a firm connection between Handyscope and iPod.
TwinLight for Immersion & Polarization
Switch button for easy toggling between polarized and non-polarized lighting. Attachments for contact and non-contact dermoscopy.
Long lasting LED lights and superior battery power with battery indicator
Powerful Lithium battery for up to eight hours of LED illumination. The control LED lights up when the battery charge is below 25%. Easy charging with the standard USB cable.
German Innovation in dermoscopy
Suitable for iPhone or iPod touch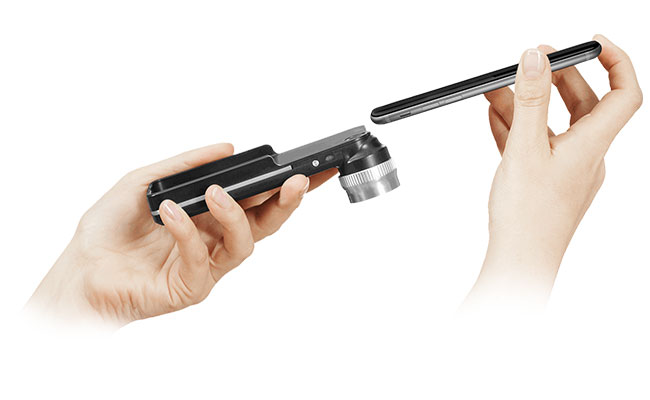 Light, elegant, seamless
Functional design that fits perfectly
Since 2010, the handyscope product line closes the gap between conventional handheld dermatoscopes and stationary mole mapping systems. Thanks to the sliding mechanism, this device ensures a firm fit and precise position of the lens in front of the camera. Developed and manufactured in Germany.
The mobile handyscope devices have been designed to be the ultimate eDermoscopy tools for any smartphone or tablet.
handyscope pro
eDermoscopy App
Explore our new, most comfortable, flexible and truly mobile app solution for dermoscopy.
FotoFinder Hub
Cloud Service
Unleash the potential for a world of eDermoscopy with the most powerful, flexible and intelligent cloud solution.